About Us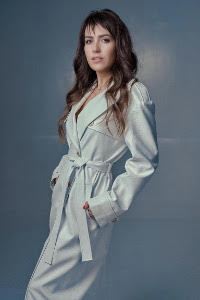 Founder and ideological inspirer of the project Ana Varava
Ana Varava
Imagemaker-psychologist, stylist,fashion-business consultant
Образование:
Bachelor degree in 'Philology, teacher of English language and foreign literature, practical psychologist' (Kiev National Linguistic University, 2001-2004).
Master's degree in Practical Psychology (Kiev National Linguistic University, Kev, department of Practical Psychology/ Psychosemantics, 2004-2005).
Second higher education: Institute of Reputational Technologies Art & Image (Moscow), 'Imagemaker-psychologist' (diploma with honors degree, 2006-2007).
Creative Image-consulting & Personal Shopping course at the leading European school in fashion and design Istituto Marangoni (London).
St.Martin's College of Fashion course in cooperation with NABA (Milan) - fashion styling for professionals.
Image-consulting & personal shopping course (Up-to-date fashion Academy (Milan).
Fashion Marketing & Pr (professional course, Istituto Marangoni (Milan, july 2010).
Fashion Institute of Technology, New York City: Putting up a Business-ready website / knowing your market / formulating your financial strategy / creative Business Plans for Consultants Success / Increase Sales and Performance (small business professional courses, june-july 2011).
ICD, Berlin, sertificate course of Cultural Diplomacy (2016).
MA in International Relations and Cultural Diplomacy (ICD-HFU, Berlin, 2017-2018).

Working experience:
More than 14 years in the sphere of professional fashion (stylist, fashion-editor, Chief-Editor of L'Officiel Ukraine fashion magazine (2004-2018), www.officiel.com.ua; launch of L'Officiel in Austria, CVO, Chief-Editor, Supervisor of the project (2019)
Member of the Board of Ukrainian Fashion Association (from November 2019)
Invited editor of cultural diplomatic project 'Ukrainian power. National heritage'
researcher. Author of the first in Ukraine academic cross-cultural research in fashion industry in Ukraine and France, supported by MFA of Ukraine, Ministry of Culture of Ukraine, Ukrainian Cultural Foundation (September - December 2018)
senior expert from A4U in sectoral policy and communication at MFA of Ukraine (department of EU and NATO, 2017-2019)
Personal clients image consulting work (from 2009);
Work in sphere of branding (brand development and extension, promotion; corporate branding);
The head of fashion direction in Italian company Target.S.r.l: fashion & beauty consulting;
Holding of professional educational fashion-styling/ image consulting trainings and seminars (at Lady First Business school, http://lady1.com.ua; Rudenko Fashion Personal Shopper Studio; Vladimir Tarasyuk beauty salons);
Leading of Fashion Styling course at Taras Malyarevich School of modern Photography (www.photo-school.com.ua);
President of Ukrainian Association sociable organization 'Association 'Fashion, Beauty and Design' (created 2009), cooperation with Ukrainian Chamber of Fashion and Festival Della Moda Russa (Milan, from November 2010).
Organization of world-level fashion-shows and fashion events: Italian Fashion Show (Hyatt Hotel, Kiev, June 2009), fashion-show of world famous designers - Frankie Morello (April 2010), Francesco Scognamiglio, March 2011, L'Officiel Awards event).

About us

I was always obsessed with the concept of beauty and harmony. From the very childhood I was captivated by beautiful things, bright people and strong personalities. My story is about travelling around the world for best fashion education, training and communicating with fashion and image professionals, to get best styling practices, fashion experience to bring that to ukrainian and post-soviet markets.

Having got education from best fashion business schools in Europe (Istituto Marangoni(Milan, London), NABA (Nuova Academia de belle Arts) and St. Martin's College of Fashion (Milan) and Fashion Institute of Technology (NYC, USA), having been trained by worldly-known professionals in creative fashion styling, fashion management and PR, as well as fashion business organization, having worked more than 5 years in the world of professional fashion, making fashion shootings (both styling and production for commercials, fashion stories shootings, beauty and celebrity styling), teaching fashion styling and image-consulting courses, making fashion-shows and fashion events organization...I decided to open my own company where I'll combine all that knowledge and experience in image-consulting, fashion styling and branding, giving the opportunity to create unique images and successful personal as well as fashion brands based on personal needs and having exclusive features.

all blogs